Santa Fe Protective Services, incorporated in November 1999, is a small disadvantaged, minority, woman owned business. We bring the finest level of effort and contract responsiveness Possible – on time, every time. This is an extremely competitive industry and by committing to this business enterprise we equally commit our vision and mission goals to productivity, quality process management, and sensitivity to our customers and their requirements. We are aware of the fact that some Federal Agencies use the procurement strategy of bundling services contracts. Accordingly, we are always open to strategic alliances and other mutually beneficial business configurations.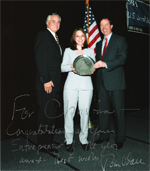 While we were relative newcomers to the Security Services industry, we won, through competitive procurement, a significant
Services contract for the U. S. Department of Energy's Waste Isolation Pilot Project (WIPP) in February of 2001. Winning a contract of this size and scope so early in our corporate history is a direct result of our commitment to this industry, as well as a demonstration of the business acumen and subject matter expertise of our core corporate staff and resources.
SFPS has expanded to security contracts in both the Government and commercial arenas. Most notably, we have expanded our services on USAF and US Army military installations.
We are a full service security company that stands ready to meet the needs of a constantly changing environment.