More than 60% of businesses in the United States now hire investigative agencies to conduct pre-employment screening. They do so because they do not wish to be exposed to a vast array of damage and liability actions that can result from negligent hiring practices.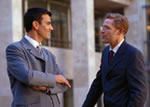 The organization that fails to stringently check a potential employee's background can fall victim to having a work environment that is traught with exposure to potentially violent, unstable and uncooperative workers.
Santa Fe Protective Services, Inc. offers a variety of pre-employment screening options that will greatly assist an employer to avoid such an environment and to prevent placement of employees in inappropriate positions. SFPS guarantees the most competitive prices in the industry and is a cost-effective, single source for pre-employment verifications.
Among our services:
Pre-Employment Background Inquires
Substance Abuse Testing Programs
Credit History
Criminal History
Driver's License History
Employment History Verification
Education Verification
Workman's Compensation Record
Social Security Verification
Professional License Verification